Today we're proud to present and celebrate the 7 winners, who received the best IELTS scores in February. It's a true pleasure to give you the dedicated, hardworking people whose efforts paid off, who can finally relax and look back with satisfaction, because they made it!
Wondering who they are?
Academic Module – 1st place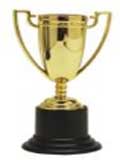 Sai Bhargavi Satti from India, Band 8.5
Academic Module – 2nd place
Dikshit Soni from India, Band 8
Phu Dat Le from Vietnam, Band 8
Hiren Haribhai Barad from India, Band 8
Academic Module – 3rd place
Nathaline Onek Aparo from Uganda, Band 7.5
Pujan Rajesh Mehta from India, Band 7.5
Sultana Solaiman from Bangladesh, Band 7.5
Congratulations to the winners! A day like this shouldn't go unnoticed – and so we are sending your certificates of achievement to your emails. Your IELTS results will be displayed in the IELTS-Blog hall of fame – please feel free to show off to your family and friends!
Since everyone must be wondering how these lovely people were able to score so well, we are proud to report that one of the winners, Sultana Solaiman, prepared with our book "Target Band 7" and eventually overshot her target by getting Band 7.5!
We would love to know more about all the other winners, too – this is why we're asking them to share how they prepared and studied, and what helped them achieve success in IELTS. Anything they wish to tell us will be posted on IELTS-Blog without delay, so everyone can use the same technique and get a better score in their own exam this month.
P.S. IELTS results competition runs every month, and everyone is welcome to participate. Learn how to enroll here.