Today we have two stories to share. One belongs to Wahumpurage from Sri Lanka, who needed Band 7 in Writing but struggled to achieve it. The other story belongs to Tina from Iran, who started at the modest Band 6 and worked her way up to a remarkable Band 7.5. Both stories have a happy ending, and quite a few lessons that can be learnt, so enjoy and think how you can implement the same methods and strategies in your own IELTS preparation!
Wahumpurage from Sri Lanka, Overall Band Score of 7.5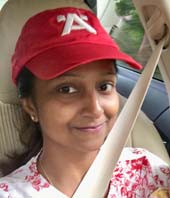 "I had been so desperate to achieve Band 7, mainly in Writing. Actually, the other three aspects were fine. So I went through sample answers for task one and two on IELTS-Blog.com thoroughly. I wrote the commonly used academic sentence patterns again and again, referring to Band 8 sample essays.
I followed the linkers that were in the samples and learnt how they were used. I used the same linkers in my essay to improve the proper flow of the essay. I became familiar with all the main topic areas such as employment, health, education etc. and what main points were discussed in sample essays. For example, if the main topic is 'health', the points are 'food' and 'exercise'. Finally, I got a great help from this website and am grateful to the whole team. Thank you again!"
Tina from Iran, Overall Band Score of 7.5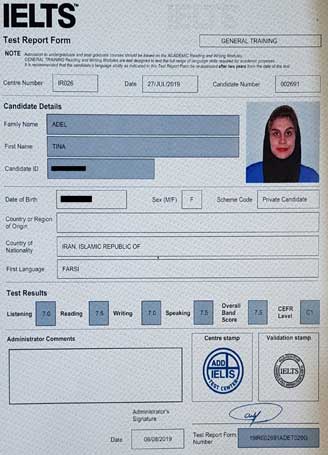 "Thank you for your amazing website and the way you help other candidates to achieve the best result.
First of all, I have to say that when I started studying for IELTS my Overall Score was 6 in my first mock exam. So it took around 8 months to get myself ready for the real exam.
Writing
Practice, practice, practice! It is good to improve your vocabulary. I had a notebook where I wrote all the important words and practiced them every night.
In the final 2 months I wrote at least one writing task a day, simulating the real exam conditions and I tried to use all the advanced vocabulary in my writing.
Speaking
It is not a good idea to memorise the answers, but it is good to become familiar with the questions. So I read all the past speaking questions and had prepared answers for them. In the real exam, although the question wasn't exactly the same as past ones, I still knew how to answer it properly. It is very important to have at least one 'if clause' in your part 2!
Reading
I didn't practice that much for reading, just the Cambridge tests. Maybe if I had read more, I would have achieved a better score. So read different articles and books in English before your exam.
Listening
Not only is it important to have adequate practice before the exam, but it also is vital to stay focused during the Listening test. So try your best to listen carefully to each sentence and make your best effort to reduce spelling errors in your answers as well."