Today I have a real treat for you. Dr Hina A. Razzak, a winner of our "Best IELTS result competition" in May has shared the reasons why she scored so high. Here is what Dr. Hina says:
"First and foremost, I would like to say that it is an easy exam, if you keep it easy and simple. You don't have to study much, as this exam is all about how fluent you are and how well you understand English.
For the listening part I used to listen to podcasts from the British Council Learn English websites. There are hundreds of podcasts there. I used to listen daily to 10 – 15 podcasts. It is easy to download them to your iPod or mp3 player, or to just listen on a PC or a laptop. Also CNN and BBC have some useful podcasts and you can listen to them as well. I saw a lot of English movies, too.
For the speaking part as I was in the UK for about 6 months before my exam, I used to speak daily with my family. Also I used to speak on usual topics like my favorite program, my favorite movie, a book, any hobby, any work I like to do, any holidays I spent, these usual topics I used to speak on daily for about 15 to 20 minutes.
For writing, which I considered the most difficult, I used different websites and practiced in writing task 1 to see how many words can I write in 20 minutes, trying to make it 150 or 200, not too lengthy or too short.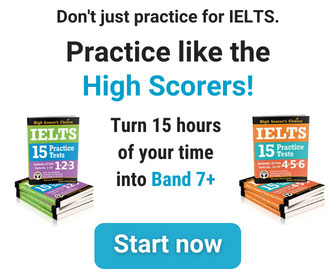 For writing task 2 because we don't know what topic will be given, I used to read different articles on topics such as MEDIA, COMMUNICATION, TELEVISION, FILMS, CAPITAL PUNISHMENT, CHILDREN AND FAMILY. It's good to get a whole list of topics that appeared in previous exams and read articles or essays on those topics, and then it is easy to write 250 words – because you will have enough knowledge by then.
For reading again I used the British Council Learn English reading modules step by step guide, and also practiced Cambridge IELTS 1 to 6 series books
. I read newspapers and Readers Digest whenever I had time.
I did all this in 15 days only and I have passed with Band 8 🙂
And last but not the least – IELTS-BLOG.com website really helped me throughout that period.
ALL THE BEST TO EVERYONE!"