Today we are delighted to introduce to you Navneet Gridhar – a lovely young lady from India, whose mother tongue is Hindi. Navneet won in our recent IELTS results competition, scoring Band 8.5 overall with two perfect 9's for the Listening and Reading.
In our traditional winner's interview, Navneet shared some very useful IELTS tips that may help you improve your own exam performance and achieve better results – so read closely what she did.
Navneet said: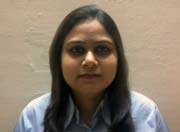 "I would like to thank IELTS-Blog.com for the support and resources it provides to the IELTS candidates for all four sections of the test. I prepared for four weeks and my main focus was on writing hence I practiced writing and re-read all the essays on the blog many times. This exercise really helped me understand, what an examiner expects in a band 7 or a band 8 essay. Every day I took one complete test of all four modules.
For listening the focus is utmost important and practice is the key under real examination conditions to get a good score. Even by looking at the questions one can get an idea about the kind of answer it's going to be, like if a number, a word, two words or a combination of both would come. It is a good idea to underline key words in the questions for the better grasp of the audio.
I read lots of e-books so reading section was not very difficult for me, however, building some strategies is critical to this section too. Taking a look at the questions before hand will make you aware of the main content in the given passage and just like in the listening section underline the key words in the question so that while skimming through the text you can find the answers easily. Do not jump the gun – do not decide on the answer just by looking at the key words – sometimes the questions are tricky. Read every question carefully to find out the exact information asked.
Writing section requires basic understanding of academic writing such as grammar, vocabulary and essay structure. For writing it is important to have one's own opinion about general topics related to politics, education, society, nature and science to name a few, so read newspapers and familiarize yourself with all these important aspects which affect us. Develop your own opinion because it is asked in the test. Read good essays to understand the structure of the essay. Write on any given topic and get it checked by an expert.
Speaking again involves individual opinion so while preparing topics for writing prepares you for the speaking as well. Read topics from the blog and practice live with the help of someone by keeping in mind the timelines. For non-native speakers it is good to converse more in English to prepare better for the test.
I think even before start preparing for the test, it is important to analyse your own strengths and weaknesses in all four modules of the test. For example, if one has a good vocabulary then it would benefit in writing and speaking section and they would not have to put too much of effort to build it up for the test. So the focus could be shifted to other parts of the test and based on that, the method of study and time allocation could be decided upon."