I believe that success stories are important. They help your motivation, make you worry less about the exam and prove that it is possible to prepare and get a good score in a short period of time. Today I have one more success story for you – it's about Gana, an Indian student, who took IELTS twice and raised his score significantly.
The exams were one month apart and after only 4 weeks of preparation Gana's overall Band score rose from 7 to 8. His weakest skills were Reading and Writing and amazingly he managed to raise his scores from 6.5 to 9 (!) in Reading and from 6.5 to 7.5 in Writing. In Reading the hardest task for Gana was True/False/Not Given questions, but even those he managed to get under control.
We exchanged quite a few emails and Gana was very kind to share his tips and tell the rest of us how he prepared and what the reasons for his success were. I can't call them "secrets" because after this post they are not "secrets" any more 🙂 Anyway, let's hear it from Gana:
"Reading
Though I was appearing for General Training exam, I did not break the convention and started off by attempting Academic tests. After a few initial obstacles and as I gained a reasonable control over the two essential skills of skimming and scanning, my scores began to ascend fast and I was getting full scores or near full scores. When I started with GT practice questions, the score dropped and after some analysis I found the reason. In Academic training, you get 3 passages that are big, and your biggest challenge is to get the gist of the passages with in a short period of time, but then the questions are usually easy!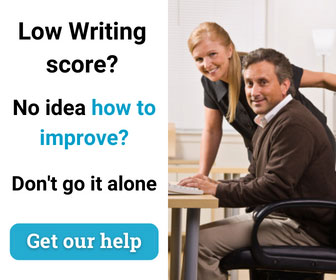 In GT, you get 5 passages and four of them are short, sometimes ridiculously short, and the last passage is similar to the Academic Training. In addition, the questions in GT are a bit tricky, except for the last paragraph that follows the academic convention. So, if you are in a hurry, and overdo the skimming and scanning you may loose sight of valuable details and fall into a trap. Remember, in GT you can only afford to have fewer incorrect answers when compared to Academic for the same band score.
I'm not claiming this to be some science, but this worked for me. So, when you practice, analyze why your answers were incorrect, and I would even suggest you make note of the time you spent for each of the passages. Pay particular attention to T/F/NG and Simone has several valuable tips on this blog and in her book Target Band 7.
Also, IMHO the practice tests that are included in the book the British Council ships when you register for the test (we get it here, in India, and I can't speak for the rest of the world), were easier compared to the test level; either that or its exam stress, but I'm less inclined to go with the latter.
Listening
This is one area where you can improve your score pretty quickly, if you learn how to listen with a purpose. If you are like me, and don't watch much TV, then you can use some online materials in the form of podcast's. TED.com is my favorite and I listen to a few other podcasts I download on technical subjects from several other sites – it's both informative and helpful for your test. BBC News site has several such podcast's for you."
In my next post I will share Gana's tips for the Writing and Speaking tests. Oh, and just before I forget: if you feel that you didn't do well in the exam, wait until you get the results. Even Gana, who got 9 for Reading after the exam told me that he was disappointed with his performance.