It's always useful to be able to learn from the experience of others who've been where you want to be, and done what you want to do. So, if your goal is an IELTS score of 7.5 or higher, this is your chance to get great tips from two such IELTS candidates. They won in our monthly IELTS results competition and when we interviewed them about their success, they shared some interesting and useful advice.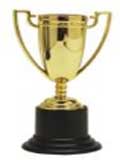 Mino Bartolini is a 31 year-old Italian, who got Band 7.5 in Academic IELTS (with 8.5 in Reading), in order to study in a university abroad. Mino said:
"From my personal experience, I'd recommend to keep on studying regularly and never give up. I found it very useful to dedicate 4 hours a day to the study of English, with a focus particularly on the IELTS test structure.
Needless to say, you may know perfectly well the English language, but you need to know the structure of the IELTS test on the day of the exam. For doing so, I bought two books, with a lot of exercises, tailored for the IELTS test: the first one to broaden my vocabulary and the second one to refresh my knowledge of the grammar rules.
After three months the hard work paid off because I scored a remarkable 7.5 overall, which made me feel so proud and also allowed me to receive an unconditional offer from the University I had chosen. I hope that my experience could be useful and I wish the best of luck to everyone who is planning to sit the IELTS test."
Our other winner, Sachin Miskin, is 36 years old and lives in India. He got Band 8 in General Training IELTS with 8.5 in Reading and Listening. Sachin said:
"Some tips now that I have cracked both IELTS and PTE-A:
1. Commitment towards studies: ensure you dedicate 2 to 3 hours daily to theory and practice.
2. The format of the exam should be memorized so well that you should know what type of question to expect next.
3. Always time yourself during practice, it helps a lot.
4. For the IELTS Speaking, try to neutralize your accent and use varied vocabulary. Also, note that Speaking doesn't mean blabbering, you should have ideas and thoughts to talk about.
5. In the Listening section guess the words even before you hear the speech. If your English is good, you will more or less figure out the missing words more easily.
6. For the Writing section, ensure the complex and compound complex sentences are used often with appropriate words, phrases and grammar."