Everyone, meet Anastasia from Tashkent, Uzbekistan, who achieved an overall IELTS band score of 8 with individual scores as follows:
Listening 8
Reading 8.5
Writing 7
Speaking 8
Band 8 is a remarkable score that takes a considerable effort, especially for people living in non-English speaking countries – and Anastasia did it in less than 2 months!
We asked Anastasia how she prepared, and if you read her story closely, you will find many things that would help YOU do better in IELTS.
Anastasia said,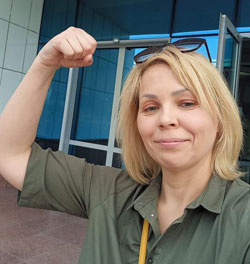 "There is no way I'm taking my score for granted – I dedicated a lot of time to preparation, considering I had less than 2 months to get ready.
I was really lucky to have Alla Sobirova as my tutor and I'm deeply grateful for my access to IELTS Online Prep Platform. The final Band 8 definitely exceeded all my expectations on each part of the exam.
I love English, and I bravely and boldly considered my level as advanced, but haven't had much practice recently and haven't taken any exams in ages. I assumed that I shouldn't be horrible at Listening or Reading, but I had no idea how I would do in Speaking or Writing.
Nevertheless, as soon as I did my first trial test, I realised that I would really need practise. The scientific language of the Reading test made me fall asleep – I just couldn't get through the texts. My first Listening results were sometimes well below 25 correct answers. I realised that IELTS is about fitting the criteria and trying to do your best. To get the best result I needed to do as many tests as possible to know all types of tasks I could face, evaluation criteria, etc. There are quite a lot of techniques to get through IELTS and the online tests provided me with the opportunity to discover which of them helped me and which didn't.
Somehow the Listening test turned out to be the most complicated for me – I hated maps, plans and drawings – my brain couldn't quickly transform words to fill in the gaps and I had trouble following the directions on a map. I also made grammar mistakes. Sometimes you just can't hear, or don't know the word – it all happens. But it doesn't mean that you don't know the language, and it doesn't mean you can't get a good grade. You just need to find the way to demonstrate your knowledge the way it is expected.
So after all I managed to put together my own set of advice and instructions for myself in terms of "what should I do if…" – if I don't understand the text or a particular word, if I can't hear or can't find the answer, what should I do if I have nothing to say or write.
Any exam is a quite stressful and unpredictable procedure, but thanks to the online tests I did, I was more than ready. Firstly, because I saw my progress during the preparation, and secondly, the real test I got was easier than the ones I did on the IELTS Prep Platform.
I'm absolutely sure that the online tests made me ready for the maximum level of difficulty, so during the exam I felt excitement and confidence. I had enough time to answer the questions, go to the bathroom and double-check everything. And I was able to spend some extra time on couple of Reading questions I was confused about.
I definitely recommend IELTS Online Prep Platform to anyone who aspires to do their best in IELTS. If you need a good grade and want IELTS to be an adventure and not a torture, go for it."