Our friend N took the IELTS test in Japan and remembered the following details:
Listening test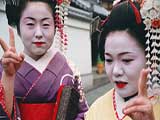 Section 1. A conversation between a woman and receptionist about school admission for a toddler.
Section 2. A lecture by the tourist guide about a certain mountain trail and its location.
Questions: map labeling.
Section 3. A conversation between two students regarding a farmland project.
Section 4. A lecture about people's sense of smell and types of odours we are able to distinguish.
Questions: summary completion.
Reading test
Passage 1. About car insurance.
Questions: True/False/Not Given.
Passage 2. About vehicle usage rules at the office.
Questions: True/False/Not Given, match headings to paragraphs.
Passage 3. About different theme parks and their details.
Questions: match headings to paragraphs.
Writing test
Writing task 1 (a report)
We were given two bar charts showing the number of people per square kilometer in six different countries and the percentage of change in urban population from 2003 to 2005.
Writing task 2 (an essay)
Some people want the government to spend money on researching life on other planets. Others, however, think it is a waste of public funds and there are too many problems on our own planet to be fixed first. Discuss both views and give you own opinion.
Get a self study book, for Academic click here, for General here.
Subscribe to IELTS-Blog.com via RSS or via email