Najmeh Alyasin, a successful IELTS test taker, says
"Dear Simone,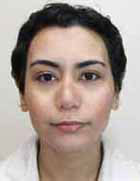 I have good news. I got the result of the IELTS Exam on 21 November. I made it!
Listening 7.5, Reading 7, Writing 7, Speaking 8.
Thank you so much for your book and guidance.
Regards,
Naj"
Background
Najmeh Alyasin is a nurse by profession, who needed to get Band 7 in the IELTS test to become a registered nurse, allowed to practice in Australia.
When she first took the IELTS exam (before coming to Australia) her writing score was Band 6. While living in Australia Najmeh took another 6 IELTS exams. Her writing score in the 7th attempt (in October) remained at the Band 6 level.
Najme wrote to Simone in frustration: "Now, after three years of practice and life in an English speaking country my Writing result remains 6!!! I am sitting the exam on 21 November for the 8th time in Australia! As I said before I do believe that there is something wrong with examiners!"
After 3 weeks of practicing with Target Band 7 and having the writing tasks checked by the Writing Correction team, Najmeh took her IELTS exam for the 8th time, and … received Band 7 for Writing.
Objective
Najmeh needed to raise her score from Band 6 to Band 7 in the Writing test.
Strategy
By the time Najmeh took her 6th or 7th IELTS exam she understood there must be something wrong with the fact that all her preparation and practice, in addition to living 3 years in an English-speaking country, can't help her score 6 in Writing. Najmeh was confused about the reason why her score was remaining at the Band 6 level – to the extent that she blamed the examiners for it!
She began searching online for IELTS help, and found IELTS-Blog.com. It didn't take her long to decide to buy Target Band 7, to learn the rules of IELTS writing. She also decided to use the Writing Correction service to receive an analysis of her writing tasks, and to get suggestions on what she had to improve and how to do it.
Execution
3 weeks before her IELTS exam Najmeh bought Target Band 7 and a Writing Correction package.
Advantage 1: Najmeh learned about the correct structure on both essay and paragraph levels, which helped her improve coherence. She learned that beginning a paragraph with an example is not the best way.
Advantage 2: Najmeh learned how to sequence arguments logically, to make any essay easier to read.
Advantage 3: from the teachers' comments Najmeh learned about her sentence formation and spelling problems ( she used to write "seperating" instead of "separating", "bout" instead of "boat", "instructures" instead of "instructions", etc). Previously she had no idea about these issues, but once she began paying attention to the grammar and spelling, her writing improved significantly.
Advantage 4: Najmeh began writing consistently better reports even on complicated mixed charts (such as a pie chart and a bar graph in one task).
Results
The IELTS Score Najmeh received was
Listening 7.5, Reading 7, Writing 7, Speaking 8
Najmeh wrote to Simone:
"Dear Simone,
As I had difficulty in Writing, I just concentrated on the Writing Chapter of your book. It helped me to organise the essay in three paragraphs. Simply, I followed your instructions to identify the topics by type, and write a clear introduction, two body paragraphs and a very clear conclusion. The same goes for Task 1.
In addition, the correction service assisted me with reducing the grammar mistakes as much as possible and also corrected my spelling. I strongly recommend both e-book Target Band 7 and the Writing Correction program to students who have difficulty in writing. I do believe in them! I wish I had the e-book one year ago.
Regards,
Naj"