The IELTS test questions below are from Iran and were kindly shared by Y (thank you!):
Writing test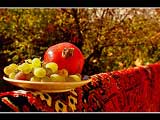 Writing task 1 (a letter)
You have recently flown to another country on a business trip. You were satisfied with the flight, but didn't like services at the airport. Write a letter to the airport manager and say
– Give your flight details.
– Why were you disappointed?
– Suggest some improvements to the airport services.
Writing Task 2 (an essay)
Some people say that art subjects such as music, drama and creative writing are an essential part of education, and every school should include them in its syllabus. Do you agree or disagree with this statement? Give your opinion and examples from your own experience.
Speaking test
Interview
– What is your full name?
– Can I see your ID?
– Where are you from?
– Do you work or study?
– What do you do?
– Do you have a morning routine?
– Would you like to change it?
– What kind of pictures do you like?
– Did you do arts as a child?
Cue Card
Describe a city that you like. Please say
– How did you know about it?
– What is the city famous for?
– Why do you like it?
Discussion
– Is the quality of life in cities higher compared to countryside?
– Why are there tall buildings in cities?
– Why do tourists visit historical cities?
Get a self study book, for Academic click here, for General here.
Subscribe to IELTS-Blog.com via RSS or via email