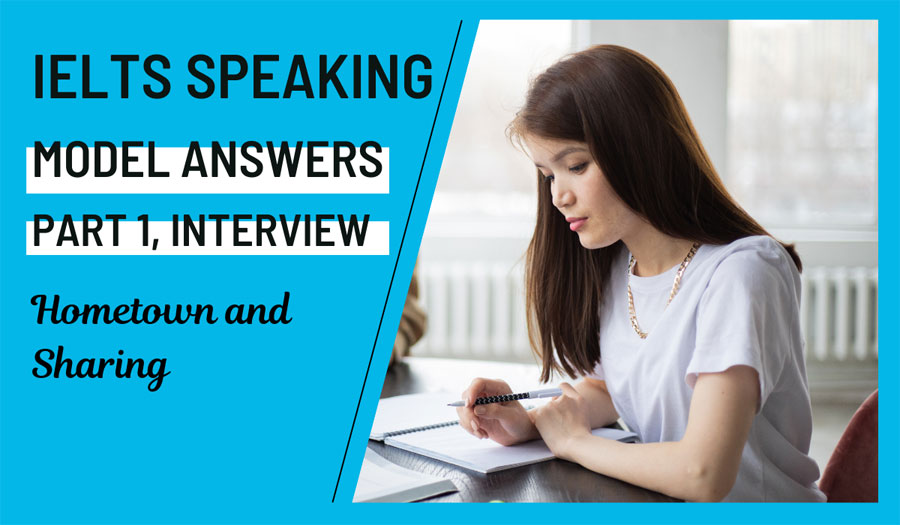 Here are some high-scoring Part 1 model answers for the Speaking Test that was shared by a student from India. The answers below show a good way to respond to these questions. You can find the answers in the other parts here: Part 2, Part 3.
NEW! In this podcast episode you can LISTEN to all the questions and answers. It's great to improve your pronunciation, intonation and overall fluency!
Or you can listen on YouTube (turn subtitles on):
Speaking test
Part 1 (Interview)
1. Where do you live?
I currently live in Sydney, Australia. Sydney is located on the east coast of the country, and it is home to some of the most iconic landmarks in Australia, such as the Sydney Opera House and the Harbour Bridge.
2. How long have you lived there?
I've lived in Sydney for the last 8 years, first while studying for a degree in Accounting, and then I found a great job and decided to stay.
3. What do you like most about the place where you live?
There are so many things that I love about living in Sydney! Firstly, the beaches here are some of the best in the world. The city also has a vibrant culture with plenty of great restaurants, bars, and nightlife options for people to enjoy.
4. Do you think your city has changed much in recent years?
Definitely! Over the past 5 years, I've seen a lot of construction in Sydney, especially in the city centre. It became even more of a bustling metropolis, with glassy modern buildings popping up everywhere.
5. Now I'd like to talk about sharing. Do you like sharing with others?
Well, yes, because it gives us an opportunity to learn from each other, and build relationships with those around us.
Sharing has many forms, from sharing knowledge or resources to simply spending time together and having fun, I believe there's tremendous value in sharing things and experiences with other people!
6. How do you feel when someone refuses to share with you?
To be honest, it can be quite disheartening. However, instead of feeling resentment or animosity towards them, I try to focus on understanding their situation, and why they might have said no.
7. Is sharing things a common practice in your country?
Yes, sharing is very much part of Australian culture! It can be food being shared between family members during holidays, or resources being pooled together amongst friends during tough times. We understand the importance of helping each other out whenever possible.
8. What is the most valuable thing you have ever shared with someone?
Well, personally, this would have to be my time that I spent volunteering at local charities in my teens and early twenties, before starting work full-time as an adult. It was really eye opening, seeing how generous people can be when given the chance.
9. Would you share with a stranger, or only with a friend?
Well, actually, it's both! Sometimes it's not such a good idea because it might be unsafe, but I'm usually such a chatterbox that people don't stay strangers for very long. I'm always happy to offer help however I can.
Read more model answers on the VIP Club website