Today we're happy to announce the winners of IELTS Results competition in February. There are 6 bright test takers who already have one, main reason to celebrate, a great IELTS score they are obviously proud of, and now we're about to give them another reason to party, party, party!
Wondering who they are?
Academic Module – 1st place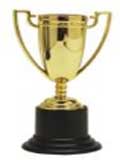 Phyo Thura Htay from Myanmar, Band 8.5
Academic Module – 2nd place
Herschel Tan from the Philippines, Band 8
Ayotunde Adedayo from Nigeria, Band 8
Academic Module – 3rd place
Phalguni Agarwal from India, Band 7.5
General Training Module – 1st place
Fidelis Ekhorelen from Nigeria, Band 8.5
General Training Module – 2nd place
Vidya Shankar from India, Band 8
General Training Module – 3rd place
My Dung Do from Vietnam, Band 7.5
Congratulations to the winners! A day like this shouldn't go unnoticed – and so we are sending your certificates of achievement to your emails. Your IELTS results will be displayed in the IELTS-Blog hall of fame – please feel free to show off to your family and friends!
I'm sure everyone is wondering how these lovely people were able to score so well. At the moment we only know that Ayotunde (Band 8) and My Dung (Band 7.5) used our writing correction service to improve their writing skills.
But every winner has his or her own story! This is why we're asking all the winners to share how they prepared and studied, and what helped them achieve success in IELTS. Anything they wish to tell us will be posted on IELTS-Blog.com without delay, so everyone can use the same technique and get a better score in their own exam this month.
P.S. IELTS results competition runs every month, and everyone is welcome to participate. Learn how to enroll here.
Get a self study book, for Academic click here, for General here.
Subscribe to IELTS-Blog.com via RSS or via email