It is my pleasure to announce the winners of our IELTS results competition in August. The highest winning score was 8.5 – a true achievement for a person with English as a second language. And the winners are…
Academic Module – 1st place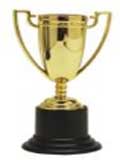 Farheen Mansoor Samozai from India, Overall Band 8.5
Academic Module – 2nd place
Phuong Tu Pham from Vietnam, Overall Band 8

(Tu Pham used 'Target Band 7' to prepare for the exam)
Academic Module – 3rd place
Sunkavalli Abhishek Kumar from India, Overall Band 7.5
Kirbashini Kanasan from Malaysia, Overall Band 7.5
Siti Aisyah Novanarima from Indonesia, Overall Band 7.5
General Training Module – 1st place
Kalpakakamakshi Sreenivasan from India, Overall Band 8.5
General Training Module – 2nd place
Hannaneh Golmakani from Iran, Overall Band 8
I am delighted to present the winners with their special certificates of achievement (which will be sent to their emails), and the winning IELTS results will be displayed in the IELTS-Blog hall of fame.
We're all looking forward to the winners sharing their exam stories – please tell us how you prepared and studied, and what helped you achieve success in IELTS. Anything you can share will be posted on IELTS-Blog without delay, so everyone can learn from you and get a better score in their own exam this month.
P.S. IELTS results competition runs every month, and everyone is welcome to participate. Learn how to enroll here.