It is my pleasure to give you the brightest IELTS stars of August 2012.
These people did a great job preparing for the exam, and as a result not only did they get high scores but also their goals were finally achieved: permanent residency in the country of their choice, or acceptance into the study program they wanted so much. Their lives are now better because they succeeded in the IELTS test.
Meet the winners:
Academic Module – 1st place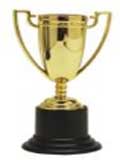 Prashant Sood from India, Band 9 (with Band 9 in both Listening and Reading)
Academic Module – 2nd place
Sanjeev Singla from India, Band 8
Academic Module – 3rd place
Indu Narasappa from India, Band 7.5
Ajit Shinde from India, Band 7.5 (with Band 9 in Listening)
General Training Module – 1st place
Seshadri Vijalapura from India, Band 7.5
On behalf of the whole IELTS-Blog.com team I would like to congratulate the winners! To celebrate this occasion we are sending your special certificates to your emails, and your IELTS results will be displayed in the IELTS-Blog hall of fame.
According to our tradition of many years, we always ask the winners to share their personal methods of exam preparation. Their answers have been helpful and allowed many other test takers to find useful ways to prepare for IELTS and face it in the best shape.
As soon as we hear from them – expect to see another post on the blog, or if you're subscribed to daily updates – in your mailbox, telling you exactly how people achieve success in IELTS.
P.S. IELTS results competition runs every month, and everyone is welcome to participate. Learn how to enroll here.