Urvashi, a young woman from India who speaks Kashmiri as a first language, has had remarkable success with IELTS – her Overall Band score was 8.5 (with a straight 9 in Listening). We first heard of her achievement when she enrolled in our monthly IELTS results competition, and when she became one of the winners, a proper interview was in order!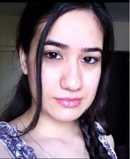 If you, like Urvashi, aren't planning to attend IELTS preparation classes, here are some tips from her that might be useful to you:
"My tips for IELTS aspirants would be:
1. For Listening: Learn to adapt your ears and brain to hearing and understanding different accents. You can achieve this by doing practice tests at home, watching movies, documentaries, interviews from numerous English speaking nations, so as to learn the subtle nuances of each dialect that you hear. During the test, do not divert your attention from the audio even for a nano second, and also coordinate your listening with your answer writing.
2. For Reading: Learn to "scan through" the passages of text, rather than waste time on reading each word. Look for synonymous words/phrases in the passages, while searching for answers. 'True/False/Not Given' questions can be especially tricky, so keep an open and objective viewpoint.
3. For Writing: Concentrate on collocations, grammar, spelling, and even the proper usage of commas, semi-colons etc. Practise, as much and as often as possible.
4. For Speaking: People often confuse fluency with fast speech. Adhering to this myth can land you in hot water, especially because speed in speaking is almost always accompanied by incoherence. Pay attention to this, as you need to be not only audible, but also understandable to your interviewer.
The goal is to be adept in a language and the only way to go is by using it as often and as much as possible, in writing, speech etc.
Do not stress yourself. Relax and manage your time well.
I'm delighted and grateful to your website, considering that I attended ZERO classes/preparation sessions for my IELTS, and your website was the only platform which proved to be extraordinarily useful to me in my study for the same."