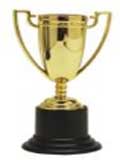 Romit is a 34 year-old Indian IELTS candidate, whose first language is Bengali. His remarkable IELTS score (Overall Band 8.5 with a perfect 9 in Reading) was the reason we 'met' – he sent his IELTS results to participate in our monthly competition, and won. When we asked Romit to share his secret to success, it turned out there was more than just one – "Start early, be determined, know yourself and have confidence" are the rules that should guide you in your IELTS preparation, he said.
Here is what Romit suggested in his winner's interview:
"First of all, I think it is very important to start preparing early for IELTS. I used to practice for a minimum of 1 hour every day for 3 months. There are numerous online materials for IELTS preparation available and test seekers should look to exploit them, especially for Reading and Listening modules.
Secondly, I feel that focus is very important. One should have fire in their bellies and an urge to perform well. Dedication, determination and discipline are extremely important. Otherwise you cannot separate yourself from the crowd.
Thirdly, it is also important to understand one's strengths and weaknesses for each module. For example, I felt I needed more practice and tips for the Writing tasks and so put more time and effort towards it. I referred to many materials online to understand the requirements of a good score in the Writing module and tried to write accordingly in the test.
Fourthly, for the Speaking test, it is not only your speaking skills that are evaluated by the examiner, but also your body language, facial expressions and attitude. So I took extra care to get these aspects right. One has to look confident and positive during the Speaking test. It is good to listen to a lot of videos available online, listen to people who speak well, focus on grammar and pronunciation and converse as much as possible in English to iron out any issues that might be there.
Lastly, for the Listening and Reading modules, there are certain techniques that are employed for every section and which are very well explained and captured in the British Council training materials. One should go through them, understand the intricacies and implement them in the exams."