Phu Dat Le is a Vietnamese test taker who got surprised by his IELTS score quite a bit. He expected Band 7 or 7.5 but achieved Band 8.0 overall, and consequently won in our IELTS results competition.
Here is what Phu told us about his exam preparation: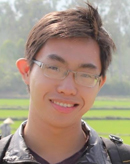 "To be honest, I don't have many tips for achieving your desired IELTS band score. Actually, I did not expect an 8.0, just around 7.0 – 7.5 instead. Regarding Listening and Reading test, I believe that there is an abundance of tips our there already. However, it is important that you pick the right ones that suit you best, for example: the priority of the tasks, skimming and scanning, whether to read the entire passage, etc. Everyone has their own method for these skills. And keep practicing your own way.
As for Writing, I did not achieve really high score. My writing skill was not very good, to be honest. Before my official test, I had 4-5 months of tutoring by a senior student who had extraordinarily passed the IELTS test before. I got to learn how to write in a more logical way and how to express the ideas coherently. Again, pick the best advice from others and make it your own. One more thing, practice writing on an actual answer sheet, so that you can estimate how long you should write into the sheet to reach the word limit in the given time.
Last but not least, for Speaking test, you can prepare some answers for Task 1, which focus on general information about yourself. For Task 2 and Task 3, prepare some contents for specific topics such as Travelling, Celebrities, Animals… This is also what I learned from my above mentioned senior student. Another advice from my friend is that you should regard the Speaking test as a job interview. Be honest, be true to yourself, do not try to learn the ideas from others which are more likely to make you feel unnatural and uncomfortable. The examiners will appreciate that. By the end of the test, you might ask for their feedback for your English speaking skill improvement."