Today's post is dedicated to the IELTS success of Yusuke, a Japanese cardiac surgeon. This lovely young man has been furthering his education in England for over a year now. Before coming to the UK the first score Yusuke got in IELTS was Band 7. Naturally, having spent a lot of time in an English-speaking country, he expected to get a better score in his next attempt. After getting again Band 7 in his second IELTS exam (in London), Yusuke was quite shocked to find that his English hasn't improved as expected, although he's been living in London for half a year already. As you would have guessed, this story has a happy ending – here is the letter Yusuke wrote to Simone a couple of months later (reprinted with permission):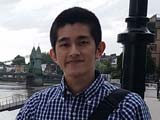 "Hi Simone,
I would like to express my sincere gratitude for your help. I was able to achieve an overall score of 8.0 with no band score less than 7.0!
I am a Japanese cardiac surgeon and have been pursuing a Master's degree in the UK since September 2014. Before coming to the UK, my score was as follows:
July 2014: Overall 7.0 (L 6.5, R 7.0, W 6.5, S 6.5)
The result of the next IELTS was
March 2015: Overall 7.0 (L 6.5, R 7.0, W 6.0, S 7.5)
I was quite shocked to find that my English had not been improved as expected although half a year had passed since I came to London. As I had intended to work as a surgeon in Australia from January 2016, I had no choice but to start tackling IELTS more seriously. The minimum requirement for the job application was an overall score of 7.0 with no band score lower than 7.0. I resumed the study for IELTS on 4th June in 2015 after finishing school exams, and had to achieve the score by the early August, when the job application would close. I was really nervous…
However, fortunately I happened to come across the book, "Target Band 7". The book taught me very useful skills to get higher scores by making the most of my current English ability. In addition, I was able to utilize the Writing Correction Service at ielts-blog.com, which also really helped me improve my writing skills efficiently. I should have known about this book and service earlier on. As a consequence of just 1 month of preparation with these tools, my scores soared.
4th July 2015: Overall 7.5 (L 8.5, R 7.0, W 7.5, S 7.0)
11th July 2015: Overall 7.5 (L 7.5, R 6.5, W 7.5, S 7.5)
25th July 2015: Overall 8.0 (L 8.0, R 8.5, W 7.0, S 7.5)
I sat three exams within a month just in case, but in most modules I was able to achieve band scores greater than 7.0, which means that the effects of the book and correction service are fully trustable. I am very satisfied with the result and have successfully applied for the jobs in hospitals in Australia. I cannot thank Simone and the colleagues enough.
Many thanks,
Yusuke"
Congratulations to Yusuke! We're very happy for you, and that now you can continue saving lives in Australia!