When we asked the highest scorers of October how they would recommend to prepare in order to succeed in IELTS, they were quick to provide some useful advice.
Sweety (IELTS Band 8.5) said: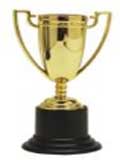 "I found the IELTS to be an apt test to ascertain one's language skill. I concentrated on the listening and the reading part and did practice with previous test samples. In my opinion, the writing and the speaking is not something you can practice and it will help you in the test. The practice would help with time management but the rest depends on your language which can only be sharpened by increasing your vocabulary. This can be achieved by reading magazines, newspapers and novels etc. This was my first attempt on appearing for the IELTS and I would say my success can be attributed to my schooling and my work environment."
Fernando (IELTS Band 8) said:
"My best advice is to practice, practice and practice. I did not enroll in any course before taking the test but If you are aiming for a certain score and you don't want to spend money, the best thing to do is go online and complete the free tests that you can find on the IELTS website. They're really close to the real thing and that helps you to familiarize with the test format. You have around 30-40 min to finish depending on the section so try timing yourself while practicing. That would help you to get an idea of how many questions you can answer or complete before you run out of time. I'd say speed and accuracy are vital while taking this test."
Adeola (IELTS Band 7.5) said:
"Preparation is key. I started practicing about three weeks before the exam.
Going through sample essays on IELTS-blog.com, I went through all the samples of my desired band score.
For the speaking I listened to the CD given to me when I signed up for IELTS, and also used a lot of online materials such as YouTube speaking videos and Learn English with Emma.
To prepare for the Reading and Listening I worked through the materials I got from the British Council and I also found IELTS-Blog.com very helpful."