IELTS Band 8 isn't an easy goal, but it is not impossible – and when you see people who did it and hear their stories, it helps to make that Band 8 real and achievable.
So, what can YOU do to get a Band 8 in IELTS?
Two of our recent IELTS results competition winners, Anne Padmarani and Prashika Pettagam, got Band 8 in their IELTS exams and are sharing their best advice to help others achieve the same level of success.
Prashika Pettagam from Sri Lanka said:
"My best advice to other IELTS candidates is to identify and review their own mistakes. I have done several practice tests and when I checked the answers I always used to find out the reason for incorrect answers. It works well for listening and reading tests and I improved a lot especially in True/False/Not Given questions. Once you check the correct answer and compare with your own, ultimately you will be able to logically find the correct answer very easily."
Anne Padmarani from India said: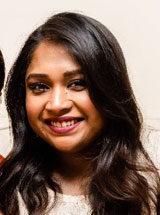 "Read a lot of books in English, watch Hollywood movies and listen to Western music. This will help you improve your overall performance. Practise makes perfect. I wrote 12 tests in total. I set a timer to time my answers. This gave me an idea of what to expect on the day of the test.
I used two books to prepare for the test: The Official Cambridge Guide to IELTS Student's Book with Answers (Cambridge English) & IELTS 5 Practice Tests, Academic Set 6: Tests No. 26-30 (High Scorer's Choice).
I also used the website IELTSLiz to get tips for the speaking test.
I asked my husband to score my essays and speaking test (he was my questioner) and worked on the feedback that he gave me. Choose someone who is fluent in the English language to help you with the tests.
Get in touch with the test center well in advance, if you have any special requests. I asked for extra time because I am disabled.
Be calm and relaxed on the day of the test. Sleep well the night before. If you miss out on an answer during the listening test, don't panic, just concentrate on the rest of the conversation.
Have fun talking to the examiner on the day of the test. My speaking test was easy because I felt pretty confident on the test day."