Today it is our pleasure to share the IELTS tips from Didier Chene. Didier is 19 years old, he lives in French Polynesia and his first language is French. However, his English is very good – he got an overall Band score of 8 in IELTS and consequently won in our monthly IELTS results competition.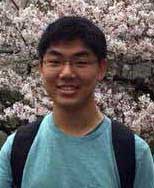 When we asked Didier for some advice that will help other test takers score better, he said:
"Thank you very much for the regular e-mails from IELTS-Blog, as well as your Target Band 7 book! The tips were extremely helpful!
Credit must also be given to Unique New Zealand, a wonderful English language school located in Browns Bay, North Shore. My heartfelt thanks go to Linda K and Jane D, two lovely Unique teachers who have given me invaluable advice and help that have hugely contributed to my score. Many of the tips they have taught me are included in the following section.
When writing/transferring your answers onto the answer sheet, write all of your answers in CAPITAL LETTERS. This way, not only will it be easier for markers to read what you wrote, you also avoid having to worry about whether your answer needs to have a capitalised letter or not. Proper nouns, for instance, when written on the answer sheet with a lower case letter, even if it is the right word, might be counted as wrong. Avoid this simple mistake by writing everything in capital letters on your answer sheet for the listening and reading sections.
For listening, I advise you to be an "active" listener: cross out the words on the question booklet as you hear them so that you're not just "listening". By doing something at the same time, you are more likely to keep on task, instead of letting your mind wander.
The reading section is all about getting the grasp of what each paragraph is talking about, and using this as a "map" to locate your answers. You may wish to jot down some key words next to each paragraph to help you scan quickly which paragraph(s) the answer is likely to be in.
In your writing, when it comes to the second section, I advise you to be opinionated – don't sit on the fence. Reading newspapers or watching the news in English is a good place to start to form your opinions on general topics that may show up in this section. It is also a good practice for your reading and listening skills.
When it comes to your speaking, it is a good idea to read through previous topics from IELTS-Blog.com, and think about what you'll say if you were to get this question. Remember that "honesty" is not being marked here, so as long as your story is believable, and you're able to convey it with your current English level, it will avoid moments of "blanks", and will likely raise your score as a result.
One suggestion I have is to talk about something that has already happened to you, but using a future tense. For example, if you're asked about travel plans, tell about the travel plans you made in the past, but talk as if you were planning this for the future. This way, you will sound more genuine, since it's something that actually happened."