Doan Hung Phuong, the winner of October results competition, shares his tips for success in the IELTS Listening test:
To succeed in the IELTS test, the key is practice. Never dream you will gain anything without any efforts. The fact is I had to do a great number of practice tests in a month before taking the real test. I did approximately one test a day, including reading and listening. Sometimes I practiced Writing and Speaking Tests at home.
Remember, you MUST do Listening, Reading and Writing Tests continually. In the real test, there will be no time for you to have a break. They officially say that you will have 5 minutes between each part, the fact this is not always so. Therefore, you must practice to cope with extremely high tension and pressure in the real test.
Practicing writing and speaking at home is not actually a good way. You need someone to check your writing and give advice how to improve your speaking. However, I myself don't have that advantageous condition as well, so I just simply did the test at home. Regardless of disadvantages, practicing at home will certainly help you deal with the limited time and improve your organization in both writing and speaking in a short time. Moreover, it also helps you get familiar with difficult questions and be well prepared for the up-coming exam.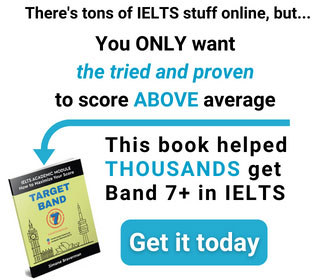 I spent 3 months preparing for the IELTS test, 2 months to gain back basic English knowledge in English centers and 1 month to constantly do practice tests. It is the best if you have a long-term plan for your exam , including improving vocabulary, revising grammar, learning and applying strategies for each type of questions in IELTS test as well as improving the 4 skills.
Now I will go into details about my way of studying and I think it will help your English improve:
Listening tips
This is considered to be the hardest skill to improve for most people. In reality, it is one of my weaknesses. To improve listening, you have no choice but to practice every day, practice as much as you can.
There are a lot of English channels where you can listen and try to understand what they are talking about. If you've got difficulty in understanding these universal channels, perhaps you need to learn more daily vocabulary and try to practice some easy listening books. The key here is just main idea. As long as you still understand what they are talking about, you will be fine. The purpose of this way is that you can familiarize with English and correct your pronunciation in basic words (the words you have known). Therefore, this is also an excellent way to prepare for speaking.
However, you MUST avoid BBC. There is absolutely nothing you can learn from BBC. If your level of English is good enough to understand BBC, you don't need to come here and seek advice; just do practice tests, it will save your time.
When doing Listening Practice Tests, you also have to catch the main ideas as well. However, this time you must practice listening to details too. The main ideas will help to you determine what the key words are and focus on the important section. Stress and intonation are also helpful. Sometimes, a lot of unnecessary details make you confused and then you can't catch the key words.
To sum up, the key for listening is Listen to English as much as you can.
Did you like these tips? Then subscribe and read IELTS-Blog in your favourite news reader – or get new posts to your email. Click here to subscribe.