As promised, today we are sharing Kathrine's tips for writing a high scoring IELTS essay. Following these simple principles increased her Band score from 7 to 8.5 in Writing, and the same can happen for you! If you aren't familiar with the term "do's and don'ts", it's really simple: do's are the things you should do, and don'ts are the things you should avoid.
The Do's of IELTS Essay
– Conciseness (8-15 words per sentence)
– Cohesion (link ideas, paragraphs, sentences together)
– Coherence (all ideas should be easily understood by the reader)
– Composition (use the correct essay structure)
– Answer the question fully (cover all points asked in the task statement)
Band 7+ essays need
a) more complex sentence structure
b) more complex vocabulary
c) more complex grammatical use and variation
– Use the official writing task 2 form to practice and check what 250 words look like in your own handwriting
– Read many essay topics
– Read many sample essays
– Know the right structure for all essay types
– Know when to give your opinion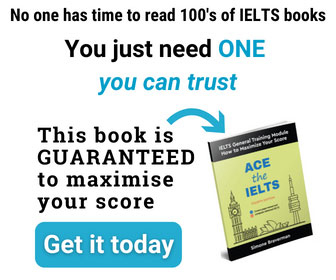 – Add examples from your own experience if asked
– Use smart words and noun groups
– Use punctuation correctly
– Separate the arguments "for" and "against" into different paragraphs
– Use the right tone (essays are always formal)
– Only use possessive/personal pronouns when giving your opinion
– Lead from one paragraph to another well – connecting words are vital!
– Vary grammar
– Write neatly as it values the reader-writer relationship
– Write maturely to reflect mature way of thinking
– Make a plan in 3-5 minutes: it makes your essay more organised, mature and conveys the positive image of YOU.
– Make your opinion very clear: formal and reasoned point of view, give details.
The Don'ts of IELTS Essay
– Write too many words if your English is average (aim for 250-265)
– Use contractions such as "don't", "shouldn't", etc
– Overuse connecting words (assessors expect that!)
– Jump from one idea to the next: link, link, link!
– Mix arguments "for" and "against" in the same paragraph
– Use the wrong tone (essays are always formal)
– Use abbreviations
– Repeat words or overuse primitive verbs (does, makes, gets)
– Cross out many things
– Write illegibly
– Use idioms too frequently or inappropriately
– Write in a babyish manner (bad grammar and poorly developed ideas)
– Become a clock victim (constantly look at the clock and panic)
– Start writing without a plan
– Forget to leave a blank line between paragraphs
– Use generalisations ("All", "Every") as this reflects an immature way of thinking
– Use simple sentences if you want a high score
– Use cliches as they are often too informal
– Use 'lazy' expressions ("and so on", "etc").
– Copy part of task question
– Agree with both sides – choose one side to make your opinion clear
– Let adrenaline make you arrogant
– Go off topic
These tips are not exhaustive but will give you some important points how to pass the IELTS Writing test with a high Band Score.