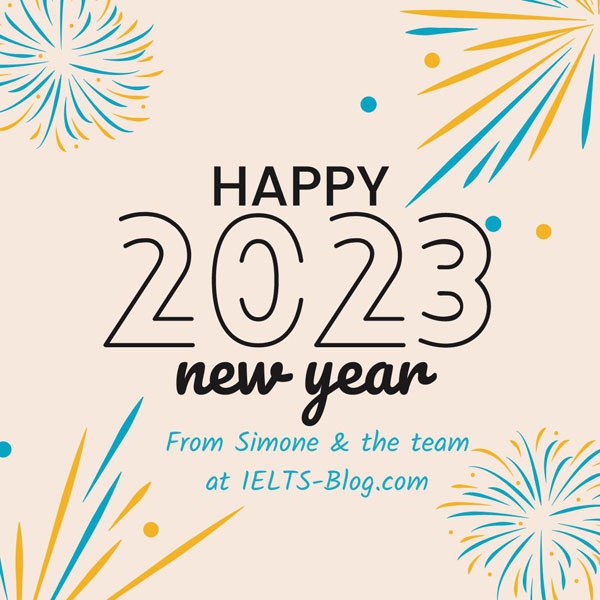 Hi everyone, this is Simone. Today is the last day of 2022, which means I have one last thing to do, before I can go on and celebrate the New Year. It's been a tradition for many years now, for me to take a look back, see what I've accomplished this year, and think about everything I'd love to do in the New Year.
In 2022 IELTS-Blog.com turned 17 years old! And what a year it's been.
After collating all the new features, products, services and everything that came into existence in 2022, no wonder the year went past in a flash – me and the team, we haven't sat down for a minute 🙂
So, as a 2022 recap, here's goes:
The IELTS prep tools we created for you
To help you study for the IELTS test easily, on paper, computer or your mobile phone, we
Numbers don't lie
Knowledge is power, and in 2022 we proudly empowered 2.6 million people who visited IELTS-Blog.com and read our blog posts 6 million times (!)
We delivered over 11 million emails with IELTS questions, advice and preparation materials to our subscribers this year.
To make sure you know what questions might come up in your exam, every day of the week we either posted an exam update with the latest IELTS questions, or a model answer – so that you know how to a respond.
And our efforts paid off – just look at these happy IELTS competition winners who achieved outstanding results!
Our IELTS community knows no bounds
Social media has long morphed from its original purpose to something that serves other needs today, and so many people appreciate an opportunity to learn something new via their social channels. Our Facebook following is 423K-people strong, and on Twitter we're followed by 39K users. On YouTube we've got over 10K subscribed and many more watching our videos, and on Instagram our following is about 5.6K (but we're relatively new to the platform, so I am sure the best is yet to come!)
Many people are searching for their purpose in life. I am blessed to have found mine – and it is to help YOU. I am here to break IELTS down for you, to explain how to approach it, and show you how to achieve your target score. So let me teach you how to calmly and confidently study, take the test, pass it and step into your bright future sooner.
To everyone who read our blog posts in 2022 – I wish you the IELTS score of your dreams in 2023.
To all the teachers, IELTS tutors and volunteers helping people pass their IELTS exams – I hope your students get amazing results in the New Year.
You can be 100% certain that in 2023, just like the 17 years before it, my team and I will continue to help you, and there will be new IELTS books, practice tests and services.
Just keep coming back; we'll make it worthwhile.
Thanks again for being part of IELTS-Blog.com family in 2022. Thank you for your friendship and kindness, for your feedback and ideas, for sharing your knowledge and for spreading the word about IELTS-Blog.com.
Here's to making 2023 your BEST year ever!
Happy New Year from Simone and the entire IELTS-Blog.com Team