Ashkan is a 19 year old Farsi speaker and a proud owner of a remarkable IELTS score. He received Band 8 in a recent exam after preparing on his own. This is how he dealt with all the obstacles on the way to success: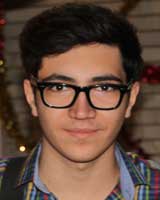 "The most terrible thing for an IELTS candidate is confusion. This is especially true for self-taught students. This confusion is caused by the gigantic number of different sources of information, which are sometimes inaccurate, so finding a trustable source of tips and tactics for how to approach the test, and studying it as well, is the key to success – at least for me it was. In the book Target Band 7 the information is classified and helps students familiarise themselves with the types of questions that they'll be given in the real test.
The Reading Module was the hardest one for me. I used to get a 5 or 6 in the practice tests, and I was pretty disappointed. But surprisingly I got an 8.5 in the real test. So do not feel dizzy and frustrated if you have the same problem. There are pretty nice tips in Target Band 7, especially on time management, which I believe is the most important thing in the Reading test. I put these tips and tactics into work; I tried to figure out the causes of my mistakes, and wrote them down on a piece of paper. I read them every time I wanted to start practising. For example 'read the whole statement' or 'do not use your assumptions, use what you actually read' or similar. This really worked. Believe me guys, at least for this module, all you need to do is practice. I admit that I never achieved more than 7 in my practice tests. By the way, after finishing a test, I used to read and enjoy the passages. The information comes handy sometimes, for Writing Task 2.
The Listening Module was really easy for me though. I am used to listening to English podcasts on my iPod, and that really helped. The most important point was achieving the ability to write and listen at the same time. You need to be really quick. There are many common mistakes, such as getting stuck on a question and losing the following ones because of that, and Target Band 7 helped me avoid them.
The Writing Module is always a little hard to practice, as you can't evaluate your own essays and reports. But writing lots of them helps you get quick at it. Target Band 7 helped me the most in Writing. It helped me learn what I'm going to deal with. Almost every possible type of chart is given in the book with great tips and important points. I wrote at least one of each type, and used the explanations given in the book.
If you still feel disappointed about your writing, knowing about the mess I made in my exam could make you feel better. I started from Writing Task 1, and wrote for 10 minutes. All of a sudden, I found out that I'm quite into details instead of writing selectively (as I had read in Target Band 7 book), so I erased it all and started Writing Task 2. I was really nervous because I knew that I did not have much time, but I did my best and was pretty surprised by getting 7.0 in writing. I believe this was due to writing selectively instead of covering the whole chart.
My Speaking test went well. Again, paying attention to the tips given in the book helped a lot, but practicing is also needed. First of all, make sure your anxiety does not affect your performance. And secondly, as I read in an article in IELTS-blog, "Do Not Stop Until the Examiner Stops You". That's the key to success. I talked a lot to myself, and tried to record my voice and listen to it (but I hate hearing my own voice so I skipped this step). I did not try to be fancy, instead I kept it simple, correct and fluent and I made it to a 7.5.
To wrap up, remember to practice, practice and whenever you're tired of practicing, practice again. I want you to know that the IELTS exam is not a monster unless you make one out of it. Try to do your best and even if you feel disappointed, don't let it influence you. Keep going and you will make it!"