Hi there! If you are reading this, it probably means that
your mother tongue is Spanish,
you need to take IELTS and
you're looking for free and effective study materials.
And this is great, because we have a free IELTS preparation book for you.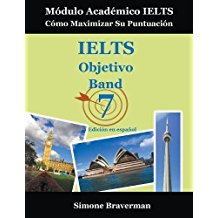 Ever heard of "Target Band 7" IELTS book? It's a very popular IELTS prep book that helped thousands of test takers get Band 7, 8 or even 9 in their exams. Recently we translated it into Spanish, so it's got a Spanish name now:
"IELTS Objetivo Band 7"!
To celebrate this achievement, for a limited time we are giving it away to Spanish speakers, absolutely free. Why? To spread the word and hear what you think, of course!
To get your free copy please send an email to simone@ielts-blog.com and ask for IELTS Objetivo Band 7
. We'll email you a copy straight away!