Our friend C took the IELTS test in Turkey and remembered the following Writing and Speaking questions:
Writing test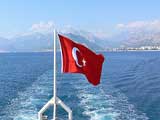 Writing task 1 (a report)
We were given a bar graph showing the consumption of bottled water in five countries. We had to summarize and explain the data.
Writing task 2 (an essay)
Some countries improve their economy to gain high standard of living, but some social values can be lost during this transition. Do you think the advantages of this outweigh the disadvantages? Give your opinion and examples.
Speaking test
Interview
– What is your full name?
– Can I see your ID?
– Where are you from?
– Do you work or study?
– What is the importance of your study?
– What is the main challenge of your work?
– Let's talk about fruit.
– Do you like fruit?
– How often do you eat fruit?
– What fruits are your favourite? Why?
– Did you eat fruit in your childhood?
– What fruits were the best for you as a child? Why?
– Do you think older people eat less fruit? Why?
Cue Card
Describe a recent important change in your life. Please say
– What was the change?
– What were the reasons for this change?
– How do you feel about it now?
Discussion
– Do you think changes are important in our lives? Why?
– Do you think we encourage children enough to get new experiences? Why?
– Who is supporting children to change something?
– Do you think people can adapt to changes easily? Why?
– What do you think about the global changes nowadays?
– Can changes be stressful?
– Why is it so?
Get a self study book, for Academic click here, for General here.
Subscribe to IELTS-Blog.com via RSS or via email