The IELTS exam below was shared by our friend E (thanks!) from the Netherlands.
Listening test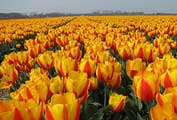 Section 1. A radio program about fruits, vegetables and flowers (about their presentation, quality and prices).
Section 2. A student was discussing the first version of a dissertation with their professor.
Section 3, 4. Don't remember.
Reading test
Passage 1. Don't remember.
Passage 2. How perfume manufacturers invent and extract smells.
Passage 3. About technical nomads and their 'oases'.
Writing test
Writing task 1 (a report)
We were given one graph that showed the expenditure in three categories (holidays, electrical equipment and clothes) in four different age groups.
Writing task 2 (an essay)
Most countries develop their economies to improve living standards. Some people are afraid that it will cause degradation of important social values. Do you think the advantages of this trend outweigh the disadvantages?
Speaking test
Interview
– What is your full name?
– Where do you live?
– What do you like to read?
– What are your hobbies?
– Which types of transport do you use the most?
– How do you think public transport could be improved?
Cue Card
Describe a room you spend the most time in. Please say
– What does it look like?
– What do you do there?
– Why do you spend so much time in there?
Discussion
– Why do you think people prefer small rooms to big rooms?
– Why do you think there are so many differences between houses in different countries?
Get a self study book, for Academic click here, for General here.
Subscribe to IELTS-Blog.com via RSS or via email