As of a few days ago IELTS-Blog.com has reached 30,000 subscribers to our RSS feed (in addition to roughly 25,000 people subscribed to our IELTS tips, exam topics and a free IELTS course).
This is obviously a big milestone for us, and we invite everyone to celebrate with us!
Participate in our giveaway of IELTS study books and win 'Target Band 7' or 'Ace the IELTS', the choice is yours (to find out more about these books read the testimonial below or click here)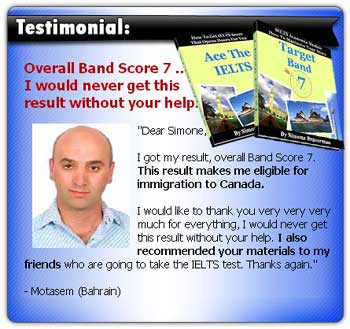 HOW TO ENTER
Update: the giveaway is now closed, we are not accepting any more entries.
All you need to do is answer this question: "If there was an ideal IELTS preparation book, what would it be like?"
to tell us what features and content you're looking for in a great IELTS study book.
If you send us the answer in an email, you get 1 entry.
If you email us your answer and share this post on Facebook with your friends, you get 5 entries.
If you have a camera in your computer, laptop or a mobile phone, record a video response to this question, send it to us and get 10 entries (meaning your chances are 10 times better with a video response!)
All the participants will go into a lottery, and the winners will be randomly picked out.
We are giving away 7 e-books – meaning 7 lucky winners will get to download 'Target Band 7' (for the Academic module) or 'Ace the IELTS' (for the General Training module), along with 5 full IELTS practice tests including answers, 2 more e-books written by an IELTS examiner on the IELTS Writing and Speaking modules, and more free bonuses.
The giveaway opens on the 1st of September and closes on the 15th of September at midnight (AEST). Winners will be announced on the 17th of September.
Those of you who were subscribed to IELTS-Blog.com for a while know that we very rarely give the books away for free, because they are the only source of funding for IELTS-Blog. Use this chance as it may not return for a long time – don't delay, send us your answers, share this post on Facebook, or record your video responses and email them to info@ielts-blog.com.