An IELTS test taker from Vietnam remembered the following Writing and Speaking questions:
Writing test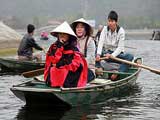 Writing task 1 (a letter)
You recently watched a movie in the cinema, but didn't enjoy it because of some technical issues. Write a letter to the cinema manager and say
– When did it happen?
– Describe the problems.
– What would you suggest the manager does about it?
Writing Task 2 (an essay)
Many people try to look younger than they really are. What are the reasons for that? Is it a positive or negative development?
Speaking test
Interview
– What is your full name?
– Can I see your ID?
– Where are you from?
– Do you work or study?
– What subject are you studying?
– Why did you choose it?
– Is the color important when you choose to buy something?
– What color don't you want at home? Why?
– What fast food do you like?
– How often do you eat fast food?
– What do you prefer, one long holiday or a few short ones?
Cue Card
Describe what you would do if you had a day off. Please say
– What and where would you do?
– Who would you do it with?
– Why would you like to do it?
Discussion
– Why do people try to earn more money?
– Is it good to do that?
Get a self study book, for Academic click here, for General here.
Subscribe to IELTS-Blog.com via RSS or via email