Two IELTS test takers from Vietnam and Australia (thanks, P and N!) remembered the following information about their exams:
Listening test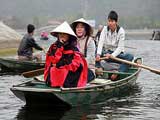 Section 1. A conversation about a studio rental.
Questions: filling in blanks.
Section 2. A description of a fitness center map.
Questions: multiple choice, map labeling.
Section 3. A conversation between a tutor and two students comparing ecology courses in two universities.
Questions: filling in blanks, match universities to statements.
Section 4. A presentation on Nano technology.
Questions: filling in blanks.
Reading test
Passage 1. About the history of wallpaper.
Questions: filling in blanks, True/False/Not Given, diagram labeling.
Passage 2. A research about twins.
Questions: multiple choice, match statements to paragraphs.
Passage 3. About graffiti in New York.
Questions: multiple choice, True/False/Not Given, match a statement to a person.
Writing test
Writing task 1 (a report)
We were given a triple line graph showing football audiences in Italy, England and Germany from 1994 to 2008.
Writing task 2 (an essay)
Some people believe that a vertical city in which people work and live in tall buildings is a good idea. Others say that horizontal living is better. Discuss both views and express your opinion.
Speaking test
Interview
– What is your full name?
– Can I see your ID?
– Where are you from?
– Do you work or study?
– What do you do?
– Do you like your job?
– Do you celebrate your birthday?
– Do you like birthday celebrations in general?
Cue Card
Talk about a foreign movie that you liked. Please say
– What was the movie?
– When and where did you watch it?
– Why did you like it?
Discussion
– Do people in your country watch English movies?
– How do people find them, especially elderly people?
– Do movies reflect the truth about the country they belong to?
– What movies other than English are popular in your country?
– Do you think foreign movies can teach us something?
Get a self study book, for Academic click here, for General here.
Subscribe to IELTS-Blog.com via RSS or via email