Our kind friend N shared the questions from an IELTS exam in Uzbekistan – here they are:
Listening test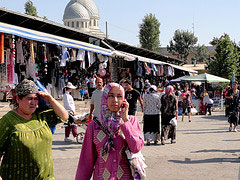 Section 1. A phone conversation between a woman and an airline representative.
Section 2. A conversation between a student and a professor about the next week's presentation.
Section 3. A woman talked about her travel to a particular island.
Section 4. A woman talked about the process of printing photographs.
Reading test
Passage 1. About drama study for art students.
Passage 2. About a certain type of Australian parrots.
Passage 3. About different experiments done by several scientists.
Writing test
Writing task 1 (a report)
We were given a graph showing the percentage of money spent on health in Japan, Italy, France, Germany and the USA in 2002.
Writing task 2 (an essay)
In many countries it is easy to apply and to get a credit card. However, credit card debt causes many problems and is hard to pay back. Do you think the advantages of credit cards overweight the disadvantages?
Speaking test
Interview
– What is your full name?
– Can I see your ID?
– Where are you from?
– Do you work or study?
– Where do you live now?
– How long have you been living there?
– Do you like living there? Why?
– Do you like taking photos?
– When do you like taking them?
– What kind of pictures do you keep? Why?
Cue Card
Talk about a foreign language that you know and how you learned it. Please say:
– How exactly did you do it?
– Where did you do it?
– Did somebody help you in any way?
Discussion
– Why do you think it is important to learn a foreign language?
– How is it helpful to you to speak a foreign language?
– What is the most difficult part of learning a foreign language for you?
– What is the best way to memorize new words?
– Is it better to learn a new word from translation or by definition?
– Why don't some people know the language of the society they live in?
Get a self study book, for Academic click here, for General here.
Subscribe to IELTS-Blog.com via RSS or via email