The details of an IELTS test in the USA were shared by N, who remembered the following:
Listening test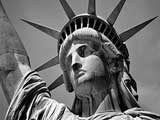 Section 1. About buying concert tickets.
Section 2. Two teachers were discussing an article on technology in schools.
Section 3, 4. Don't remember.
Reading test
Don't remember.
Writing test
Writing task 1 (a report)
We were given two maps showing a radio station 10 years ago and today, which we had to compare.
Writing task 2 (an essay)
Some people think the main benefit of international cooperation is in protection of the environment, while others think that the main benefit is in the worldwide business. Discuss both views and include your own opinion.
Speaking test
Interview
– What is your full name?
– Can I see your ID?
– Where are you from?
– Do you work or study?
– Do you prefer international or local news?
– Would you like to become a news reporter?
– Do you discuss news with your friends?
Cue Card
Talk about an old person whom you know. Please say
– How did you meet him/her?
– Why is he/she important to you?
– What personality does this person have?
Discussion
– Why are elderly people important for us?
– Is it better to care for the elderly at home or in a nursing home?
– What qualities should one have to take care of the elderly?
– What can the elderly teach young people?