Our kind friend T shared this IELTS update from the UAE.
Listening test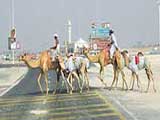 Section 1. A conversation between a client and party organizer.
Section 2. A journalist was interviewing an Eco tourism company owner.
Section 3. A conversation between two friends about their future study plans.
Section 4. A lecture about farming.
Reading test
Don't remember.
Writing test
Writing task 1 (a report)
We were given a few bar charts showing the percentage of boys and girls in elementary and high schools in developed and developing countries in 2008.
Writing task 2 (an essay)
Modern communication systems benefit many people yet there are some that oppose to them. To what extent do you agree or disagree?
Speaking test
Interview
– What is your full name?
– Can I see your ID?
– Where are you from?
– Do you work or study?
– What kind of job do you have?
– Does your name have a meaning?
– What is it?
– What are the most common names in your culture? Why?
Cue Card
Describe a party that you would like to give to someone. Please say
– Who is that person?
– Whom will you invite to the party?
– Why would you give this party?
– When are you planning to do it? Why?
Discussion
– Tell me about family parties in your country.
– Do you feel under pressure while preparing a party?
– Do you prefer to be busy all the time or not ? Why?
– Do you feel under pressure when you have lots of tasks to do?
Get a self study book, for Academic click here, for General here.
Subscribe to IELTS-Blog.com via RSS or via email