An IELTS test taker N from the UAE remembered the following information about a recent exam:
Listening test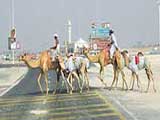 Section 1. Description of a map Location of a recording studio.
Section 2, 3, 4. Don't remember.
Reading test
Passage 1. A discussion about a successful band.
Passage 2, 3, 4. Don't remember.
Writing test
Writing task 1 (a letter)
You have recently had a good meal in a local restaurant with your family. Write a letter to your local newspaper and say
– Describe the restaurant.
– What meal did you have there?
– Why do you think this restaurant is worth visiting?
Writing Task 2 (an essay)
In most developed countries the average life expectancy is constantly increasing. Discuss the positive and negative aspects of this trend.
Speaking test
Interview
– What is your full name?
– Can I see your ID?
– Where are you from?
– Do you work or study?
Cue Card
Talk about an ambition that you have. Please say
– What is your ambition?
– Why do you want to do this?
– What have you done to achieve it?
Discussion
– Why do people have ambitions?
– Is it important to have ambitions in life?
– Do you have financial goals that you want to achieve?
– What are good ambitions for children, in your opinion?
– What should people do to get good results?
Get a self study book, for Academic click here, for General here.
Subscribe to IELTS-Blog.com via RSS or via email