IELTS test takers from the UAE and Iran (thank you, A and S!) shared the following information about a recent exam which apparently was the same in these two countries.
Listening test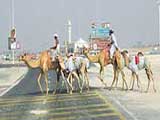 Section 1. A friend was giving advice to another friend who planned to visit Arizona in the USA.
Section 2. About a Ski centre in a mountain area and its facilities available to tourists.
Section 3. A discussion between students about the history of the Pacific region and Moire language.
Section 4. Don't remember.
Reading test
Passage 1. About sustainable development allowing to keep people safe from harm and risks associated with cooking in the kitchen.
Passage 2. About migration of birds.
Passage 3. The psychology behind a coffee-drinking habit.
Writing test
Writing task 1 (a report)
We were given a diagram showing the process of paper recycling in a factory.
Writing task 2 (an essay)
Some schools agree that fast food restaurants and supermarkets can promote their products in school and that schools benefit from it. Is it a positive or a negative development?
Speaking test
Interview
– What is your full name?
– Can I see your ID?
– Where are you from?
– Do you work or study?
– What colours do you like?
Cue Card
Describe a traffic jam that you were in recently. Please say
– When did it happen?
– Where exactly was it?
– How did you feel about it?
Discussion
– What are the main causes of traffic jams?
– What can be a potential solution for the traffic problem?
– Can the public transport system be improved further?
– Will it help to reduce traffic?
Get a self study book, for Academic click here, for General here.
Subscribe to IELTS-Blog.com via RSS or via email