Thanks to the good memory of P, A and W we can share the Writing and Speaking questions from a recent IELTS exam in the UAE and India. Apparently, these two countries had the same questions.
Writing test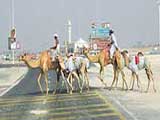 Writing task 1 (a letter)
You have recently read an article in a newspaper about your favourite restaurant. The writer did not like the restaurant, but you disagree with his/her opinion. Write a letter to the editor and say
– Where the restaurant is and its name
– Describe your last visit to the restaurant
– Why you disagree with the writer's opinion
– What should the editor do about this
Writing Task 2 (an essay)
Today people spend more time travelling to work than before. Some people suggest employers should allow employees to do some work from home. Do you think the advantages of this outweigh the disadvantages?
Speaking test
Interview
– What is your full name?
– Can I see your ID?
– Where are you from?
– Do you work or study?
– Where do you live now?
– Do you like it there?
– Do you like museums?
– Do you visit them often?
– Do you think schools should take students there? Why?
Cue Card 1
Talk about one of your friend's success story in their life. Please say
– What is the story?
– How did it affect you?
– What do you consider success in general?
Cue Card 2
Talk about a foreign language that you would like to learn. Please say
– What language is it?
– Why do you want to learn it?
– How and when will you do it?
Discussion 1
– What are the advantages and disadvantages of learning a foreign language?