Thanks to the IELTS test taker R from the Philippines we can share the Writing and Speaking questions from a recent exam:
Writing test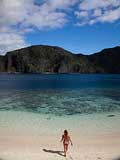 Writing task 1 (a letter)
You have recently visited a tourist attraction and were very pleased by the help given to you by the staff. Write a letter to the staff manager and say
– Give details of your visit.
– Describe how the staff helped you.
– What do you want the manager to do?
Writing Task 2 (an essay)
Many historic places and buildings are being destroyed or damaged. What do you think are the reasons? What can be done about it? Give your opinion and relevant examples.
Speaking test
Interview
– What is your full name?
– Can I see your ID?
– Where are you from?
– Do you work or study?
– What subject are you studying?
– Why did you choose this subject?
– Do you like walking in a park?
– Is there a park close to your home?
– How often do you walk there?
Cue Card
Describe a situation when you helped someone. Please say
– Whom did you help?
– When and where was it?
– How did you feel about it later?
Discussion
– Did you ever receive help from anyone?
– Is it common in your culture to help others?
Get a self study book, for Academic click here, for General here.
Subscribe to IELTS-Blog.com via RSS or via email