The IELTS exams in the Philippines and in Australia were the same, so we are told by our kind friends A and T. Here are the questions and topics A and T collectively remembered:
Listening test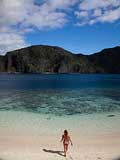 Section 1. Elinor was complaining about her flat.
Section 2. About some cars-related event.
Section 3. Stephan and Katie were talking about changing courses.
Section 4. About a neurologically based condition called "synesthesia".
Reading test
Passage 1. About City Water company.
Passage 2. Don't remember.
Passage 3. How to write a grievance report (formal complaint) – flow chart.
Passage 4. About a painting of a girl by artist Johannes Vermeer.
Writing test
Writing task 1 (a letter)
Your local community newspaper has announced a competition to acknowledge a person who has vastly contributed to the society. Write a letter to the editor about a person you know, who deserves the award. Please say
– What his/her personal qualities are.
– How do you know the person?
– How did he/she contribute to the community?
Writing Task 2 (an essay)
Many people believe that advertising directed by the junk food and toy companies have an adverse effect on young children and their families. Do you agree or disagree with this statement? Give appropriate reasons for your claims and include examples where necessary.
Speaking test
Interview
– What is your full name?
– Tell me about your hometown.
– What do you like about it?
– Is it a good place for young children?
– What languages do you know?
– Do you think it is important to learn a foreign language?
– What language do you want to learn?
Cue Card
Talk about a place you have visited at open air. Please say
– Where did you go?
– Why did you go there?
– What did you do there?
Discussion
– Why do people have to go to a retreat for relaxation?
– Where do you go to relax when you're in the city?
– Do you think it is easy to relax at home?
– Why do people say that it is difficult to relax at home?
– Let's talk about holidays.
– Why is a holiday sometimes stressful when it should be relaxing?
– What is the most stressful holiday in your country?