Our friend C took the IELTS test in Taiwan and remembered the following Writing and Speaking questions:
Writing test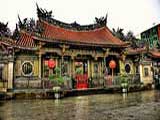 Writing task 1 (a report)
We were given two maps of the same town. One was from 1910 and the other from 2010, we had compare the two.
Writing task 2 (an essay)
Many people think that we do not need printed newspapers any more. To what extent do you agree or disagree with the statement?
Speaking test
Interview
– What is your full name?
– Can I see your ID?
– Where are you from?
– Do you work or study?
– What subject are you studying?
– Did you read a lot when you were young?
– Do you like to read now?
– Do you prefer to borrow or buy books?
Cue Card
Describe a place you would like to work in for a short period of time. Please say
– Where is this place?
– How do you know about this place?
– What would you like to do there?
Discussion
– Why do you want to work there?
– What is the difference between those who choose to stay indoors and those who like to work outside?
– What would a person learn from this short period of work?
– Why do you think so?