Shared by IELTS test taker K (thanks!) here comes the update from Sudan:
Listening test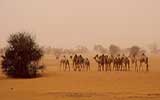 Section 1. A conversation between a lady from New Zealand and a guy from Britain regarding the choice of educational qualifications.
Questions: on what is the best degree to get a job in New Zealand and abroad. Also, what are the two aspects of a lecture they both agree on?
Section 2. A topic related to Athletics.
Questions: identify the most useful body parts in different sports.
Section 3. Information about a city and the best things to do there on a weekend, including bus routes, time of events and hiking tracks.
Reading test
Passage 1. About the changing trend of use of bottled water.
Passage 2, 3, 4. Don't remember.
Writing test
Writing task 1 (a letter)
Write a letter to a friend who has visited you a few days ago and has left his mobile at your place. Please mention
– The visit he paid you and how you felt about it.
– How you found his/her cell phone at your place.
– Suggest ways of sending it back to him/her.
Writing Task 2 (an essay)
These days many students are doing a part time job. Is it a good or a bad development? What is your opinion about it? Give examples from your own experience.
Speaking test
Interview
– What is your full name?
– What can I call you?
– What is the most challenging part of your job?
– Would you recommend your job to others?
Cue Card
Talk about something that you plan to do in life besides your work and personal life. Please say
– What do you want to do?
– What should you do for your plan to come true?
– Why do you want to do it?
– How would you feel once you have achieved it?
Discussion
– Do you like museums?
– Have you been to a museum recently?
– What museum would you like to visit?
– Is it important for children to visit museums?
– Do you think people take more photographs now than they did in the past?
– When was last time you took a photograph?
Get a self study book, for Academic click here, for General here.
Subscribe to IELTS-Blog.com via RSS or via email