The IELTS exam below was shared by our Bulgarian friend P from Sofia. Here are the questions P remembered:
Listening test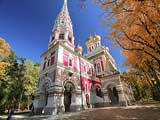 Section 1. Different types of university accommodation.
Section 2. A discussion between a student and a professor about university research.
Section 3. How to build a certain kind of structure.
Questions: diagram / map labeling.
Section 4. Don't remember.
Reading test
Passage 1. Articles about art.
Questions: matching titles to paragraphs.
Passage 2. About a rehabilitation gym.
Passage 3. About a new public transportation system.
Passage 4. Don't remember.
Writing test
Writing task 1 (a letter)
You have bought a damaged item from an online store, write a letter to the manager and say:
– What was the item that you bought?
– What was wrong with it?
– What actions do you expect the manager to take?
Writing Task 2 (an essay)
Young people spend less of their free time with their family nowadays. What are the reasons for this? Are there more negative or positive sides to it?
Get a self study book, for Academic click here, for General here.
Subscribe to IELTS-Blog.com via RSS or via email