Our friend L who took the IELTS test in Singapore remembered the following Writing and Speaking questions:
Writing test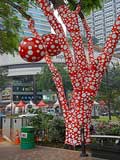 Writing task 1 (a letter)
There is a swimming pool proposed to be built in your town. Write to the city council and say
– Why is this swimming pool important to you?
– Suggest where it should be built.
– Why is it a good idea to have a swimming pool in the town and not outside of town?
Writing Task 2 (an essay)
Some people say that after finishing their education adults can increase knowledge through continuous reading. Those who disagree say there are other ways to increase knowledge. Discuss these methods and give your opinion.
Speaking Test
Interview
– What is your full name?
– Can I see your ID?
– Where are you from?
– Do you work or study?
– What do you do for a living?
– Do you think your work is interesting? Why?
– Will you stay long at your current job? Why?
– Were you playing games as a child?
– What kind of games did you play?
– What do you think about the games children play today?
– Are these games different from the ones you played as a child?
– Do you like photography? Why?
– Do you like taking photos yourself?
– When and where do you usually do it?
– Do you like taking photos of yourself? Why?
Cue Card
Talk about your favourite program that you always watch on TV. Please say
– What program is it?
– What is it about?
– What do you like or dislike about this program?
Discussion
– What types of programs are shown in your country on daily basis?
– Why do you think there is an increase of international programs on local channels nowadays?
– What do you think is the effect of 24 hour news like CNN and BBC on the society?
Get a self study book, for Academic click here, for General here.
Subscribe to IELTS-Blog.com via RSS or via email