M took the IELTS test in Pakistan and below are the Writing and Speaking questions he remembered:
Writing test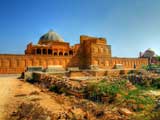 Writing task 1 (a letter)
Write a letter to the local council about the poor condition of roads in your area. Include the following in your letter:
– Explain the situation and roads' condition.
– How does it affect you and other people?
– Suggest what measures need to be taken, in your opinion.
Writing Task 2 (an essay)
Nowadays an ordinary person can become popular through the Internet and TV media. Is it a positive or a negative development? Give your opinion and relevant examples.
Speaking test
Interview
– What is your full name?
– Can I see your ID?
– Where are you from?
– Do you work or study?
– What do you do?
– Do you like your job?
– What don't you like about your job?
– Do you like cooking?
– How often do you cook?
– Do you think breakfast is important?
– Why do you think so?
Cue Card
Talk about a place or country that you really want to go to in the future. Please say
– What is it?
– How will you get there?
– What would you like to do there?
Discussion
– Do you think tourism is good?
– How does it affect a country that is visited by many tourists?
– What are some positive and negative aspects of tourism?
– What are the main things a person should know before visiting any country?
Get a self study book, for Academic click here, for General here.
Subscribe to IELTS-Blog.com via RSS or via email