An IELTS test taker from New Zealand (thanks T!) remembered the following details about a recent exam there:
Writing test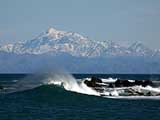 Writing task 1 (a letter)
A friend who is living overseas should visit you soon and would love to stay at your place. Write a letter and explain
– Why cannot he/she stay at your place this time?
– Suggest an alternative arrangement.
– Invite him/her to stay in the future.
Writing Task 2 (an essay)
Some people say that school studies are not useful and most important things are learnt outside the school. Do you agree or disagree? Give your opinion and examples.
Speaking test
Interview
– What is your full name?
– Can I see your ID?
– Where are you from?
– Do you work or study?
– What is the most used kind of transport in your country? Why?
– What needs to be done to encourage people to use public transport?
– Does your job require concentration and attention to detail?
– How do you concentrate, when you need to?
Cue Card
Describe an event where it was very crowded. Please say
– What event was it?
– Why did you attend it?
– How did you feel at the event?
Discussion
– What do you think about traveling in groups?
– What are the advantages or disadvantages of such a trip?
– Who do you think travels in groups more: younger or older people?
Get a self study book, for Academic click here, for General here.
Subscribe to IELTS-Blog.com via RSS or via email