Two IELTS test takers (thanks, K and T!) remembered the following details after taking their exams in Libya and UAE:
Listening test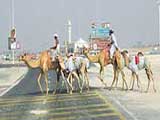 Section 1. A conversation between two people about a certain river and it's natural inhabitants such as puppies, bees, snakes and rats.
Section 2. A conversation between some students and their teacher about the project they are doing.
Section 3, 4. Don't remember.
Reading test
Passage 1. About a car park and payment solutions. The payment can be done in cash, debit/credit card or at the Post office.
Passage 2. About night shift work including start and finish time, restrictions and remuneration.
Passage 3. About the Lake George Monster Hoax that became extinct 65 million years ago.
Writing test
Writing task 1 (a letter)
You have seen an advertisement recruiting volunteers for the upcoming major sport event in your city. Write a letter to the manager of the event and say
– Why do you want to participate?
– How can you help?
– What benefit will you get from this job?
Writing Task 2 (an essay)
Many parents are unhappy with the amount of violence in video games, TV programs and other leisure activities. How harmful could this be to children? What could be done to solve this problem?