The topics below were shared by H, who recently took a General Training IELTS exam in Israel (thanks to the contributor!).
Listening test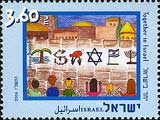 Section 1. Lecture attendance and venue.
Section 2. Gardening – sunflowers and snow peas.
Section 3. Small cultures and sharing.
Reading test
Passage 1. Don't remember.
Passage 2. Car insurance options and the law of ACTS.
Passage 3. Don't remember.
Passage 4. About a kayak traveler.
Writing test
Writing task 1 (a letter)
Write a letter to a manufacturer to ask them to arrange production of a new item for you. Please say
– What item do you need?
– Why do you need it?
Writing Task 2 (an essay)
Nowadays jobs become more stressful and workers stay longer at work. What are the reasons for this? What can employers do to help employees?