The IELTS exam below was shared by K and S from Israel (thanks to the contributors!)
Listening test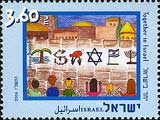 Section 1. Subscription for a membership.
Section 2. Description of the upcoming festival – event name, location, time and special remarks.
Section 3. A student talks to her professor about a work she needs to write about moth in ancient cultures.
Section 4. Don't remember.
Reading test
Passage 1. About new solutions to bury carbon-dioxide. This text included 4 persons and 2 institutions.
Questions: match a statement to a person/institution.
Passage 2. About the influenza and a new device invented in London that suppose to prevent it. A woman used it and became sick anyway. She filed a lawsuit against the company and won the case.
Passage 3. Syntheses – people whose senses are mixed (they hear music while watching numbers and so on).
Writing test
Writing task 1 (a report)
We had a bar graph showing 4 car manufacturers and the average time it took them to manufacture a car, in years 1998 – 2002.
Writing task 2 (an essay)
Nowadays both scientists and tourists can go to remote natural environments such as the South Pole. Do you think the advantages of this development outweigh the disadvantages?
Speaking test
Interview
Don't remember.
Cue Card
Describe a journey you took that got delayed. Please say
– Where were you going?
– What kind of transportation have you used for traveling?
– What was the reason of the delay?
Discussion
– Questions regarding public and private transport.