Our friend S took the IELTS test in Ireland, and her Writing and Speaking questions were as follows:
Writing test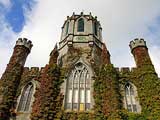 Writing task 1 (a report)
We were given tables showing information about non-graduate and graduate average salaries in the UK between 2000 and 2010.
Writing task 2 (an essay)
Some people support the development of factory farming and the science creation of fruits and vegetables in agriculture, but others oppose to these developments. Discuss both views and give your own opinion.
Speaking test
Interview
– What is your full name?
– Can I see your ID?
– Where are you from?
– Do you work or study?
– What training did you do?
– Are you planning any additional training in the future?

– Does a name have any importance in your culture?
– Is there a particular meaning to your name?
– Why were you given this name?
– Is naming a child a big occasion in your country?
– What did you do in your free time with your family as a child?
– Do you ever do the same activities in your free time and on holidays?
Cue Card
Talk about a park or a garden you have visited in your childhood. Please say
– Where and when was it?
– Who did you go there with?
– Did you like it? Why?
Discussion
– Are national parks common in your country?
– Do you think parks are necessary in our cities? Why?
– What facilities should be in a park? Why?
– Should parks be free or have an entry fee?
– Do people in your home country go to visit scenic routes or places?
– Do you think people in this country would like to visit these places?
– Are scenic places in your home country and here the same?
Get a self study book, for Academic click here, for General here.
Subscribe to IELTS-Blog.com via RSS or via email