Our kind friend A from Ireland shared the recent IELTS exam below:
Reading test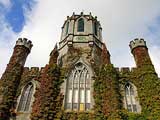 Passage 1. About human's impact on nature.
Passage 2. About ancient coins.
Passage 3. About road building in Africa.
Writing test
Writing task 1 (a report)
Describe a graph about daily calorie intake across the globe.
Writing task 2 (an essay)
Some believe elderly people should live in nursing homes, others think they should live with the younger family members. Discuss both view and give your opinion.
Speaking test
Interview
Don't remember.
Cue Card
Describe your friend. Please say
– Who is he/she?
– How did you meet?
– Why do you like him/her?
Discussion
– Why is friendship nowadays so volatile?
– Why is exercising important?
Get a self study book, for Academic click here, for General here.
Subscribe to IELTS-Blog.com via RSS or via email